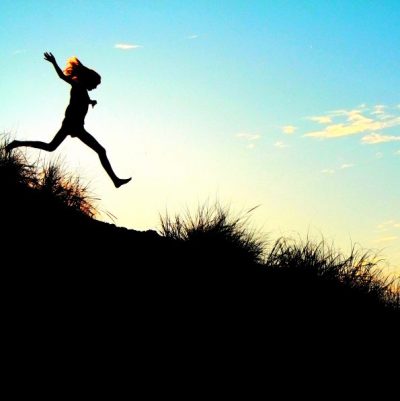 Life Coaching
Life coaching focuses on an individual's entire life as it relates to goal setting, outcome creation and change.
The true emphasis in coaching is on action, accountability, and follow–through. Since coaching is forward moving and future-focused, it supports personal and professional growth and development, based on individually-initiated change, while the coach provides a supportive, discovery-based framework. While positive emotions are typically the natural outcome of great coaching, the primary focus is on creating strategies for changing your work or personal life.
Coaching is for people who want to add that extra edge in order to move forward to make the changes they want in life… it is the right choice if:
You are ready to focus on yourself and nurture your personal development

You are prepared to work toward your goals

You feel collaboration and accountability will help you become unstuck

Your commitments to yourself and others out of balance

You are willing to let go of limiting beliefs and negative self-talk

You would like to increase self-confidence and resilience

You want a clearer vision… Or your vision is so big you're overwhelmed

You are clear about where you want to be, but you continue to make self-destructive decisions that keep you tied to your bad habits

You're in transition in your life

You're craving more purpose in your life
The Integrative Difference
Life coaching is a process of discovery. A traditional life coach is someone who guides you to reach goals and make changes in various areas of your life. An integrative life coach does that AND helps you to heal while empowering you to change your life with coaching tools, techniques, and action plans.
The Integrative difference: in addition to the core competencies of a life coach, my training as an Integrative Life Coach has provided me with extended training in the areas of holistic healing, wellness, mental and emotional release work, rewriting strategies, resolving core issues, and releasing limiting beliefs through a proprietary Inside-Out and Outside-In Coaching Model. This model includes tools and techniques from over 20 different healing modalities.
Life Coach: a practitioner who partners with clients in a thought-provoking and creative process using core competencies that include asking powerful questions, creating plans, and forwarding the action, inspiring them to maximize their personal and professional potential.
Integrative Life Coach: a practitioner trained in core competencies as well as how to resolve core issues. Core issues include belief systems, fears, habits, traumas, and stories. These are all the elements that influence how we see and perceive the world. We are able to make changes at a fundamental level of the self, so that when we do take action, it creates lasting change in our lives because we have shifted a piece of our core. This is done using a diverse range of healing modalities in the areas of mental, emotional, physical, and spiritual wellness (see the below illustration of the healing modalities practiced) to make positive changes in all areas of life, on the inside and the outside. A Holistic Life Coaching Model is employed, as well as an Inside-Out and Outside-In Model
Holistic Life Coaching Model explained:
We all have four aspects of self that are interconnected. For lasting change a person's mental, emotional, physical and spiritual aspects need to be functioning properly as these parts all effect one another.
The Four Areas Addressed by an Integrative Life Coach:
Mental
~ thought life, mental models, self-perception, and mental patterns
Emotional
~ emotions and relationships with self and others
Physical
~ health or tangible things like career or finances
Spiritual
~ awareness, self-discovery, connection, and spirituality
The Inside-Out and Outside-In Coaching Model
Integrative Life Coaching Toolbox
Using over 20 different healing modalities, the integrative approach to life coaching uses many powerful tools and techniques to help clients move their lives from where they are to where they want to be.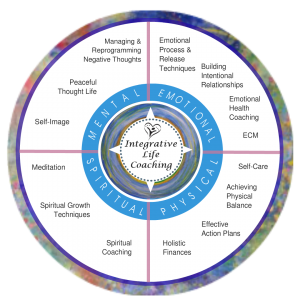 What It Is
The Inside-Out and Outside-In Coaching Model is a proprietary integrative coaching model that leads to lasting positive change. This involves coaching from the outside moving inward (physical body system moving inward toward and through the mental, emotional, and spiritual systems) to create behavior modification and effective strategies. At the same time providing treatment from the inside (mental, emotional, spiritual body systems) moving outward (toward the physical) to help clients overcome core issues, limiting beliefs, negative psychological patterns, and habits.
Why It's So Effective
Most coaching models, whether Outside-in or Inside-out, risk the potential recurrence of the problem in another area, because not all four areas of the body system have been addressed in regards to the presenting issue. For instance, from the Outside-in perspective, which is what most physical modalities use, i.e., doctors, personal trainers, etc., the ailment or physical challenge gets treated, without necessarily identifying and clearing the underlying roots of the problem, i.e., common thought patterns, negative emotions, etc., which led to the problem to begin with. This can cause the problem to potentially recur or just morph into another problem in a different area. An excellent example of this is losing weight, only to regain the weight, and then some, or to go to the opposite extreme.
Using the Outside-In and Inside-Out model, the presenting issue is addressed in all four areas simultaneously, thereby creating lasting and permanent change, and preventing recurrence or relapse.

Mental Modalities
Self-Image
Peaceful Thought Life
Managing Thought Patterns
Emotional Modalities
Emotional Processing & Release Techniques
Building Intentional Relationships
Emotional Health Coaching
Emotional Clearing Method (ECM)

Physical Modalities
Self-Care
Achieving Physical Balance
Effective Action Plan
Health Coaching
Holistic Finances

Spiritual Modalities
Meditation
Spiritual Growth Techniques
Spiritual Coaching
Self-discovery